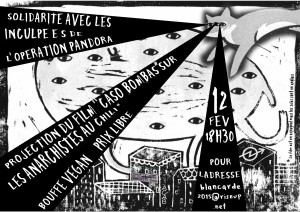 jeudi 12 février 2015 à 18h30
au squat le Rage G
Pour trouver l'addresse : blancarde2015 @riseup.net
Le film est en espagnol mais les subs sont en anglais
Solidarité internationale avec les personnes impliquées dans l'Opération Pandora
"Pour celles et ceux qui luttent, le sens de la solidarité cherche à faire s'évanouir la solitude de l'enfermement, livrer une bataille contre l'oubli de nos compagnon-ne-s enfermé-e-s par les États, mettre en lumière la logique du pouvoir qui cherche à les conduire à l'abandon."
– des anarchistes de Pandora
Un an après la finalisation de cette farce qu'était le « Caso bombas », et à travers une autre opération, de ce côté de l'océan cette fois, les ministères, les juges et les policiers espagnols et chiliens ont travaillé de concert sur un nouveau cas. Mónica Caballero et Francisco Solar, tous deux auparavant poursuivi-e-s dans le « Caso bombas », sont arrêté-e-s à Barcelone, sous l'accusation d'avoir posé un engin explosif dans la Basilique du Pilar à Saragosse, de monter une conspiration en vue de réaliser un acte similaire et d'appartenir à une supposée organisation terroriste.
Le 16 décembre 2014, une descente a été faite dans 15 maisons, squats et centres sociaux à Barcelone, Sabadell, Manresa et Madrid, et onze camarades anarchistes ont été kidnappé par l'État espagnol. Quatre d'entre eux ont été libéré peu de temps après tandis que les autres ont du attendre le 30 janvier dernier pour accéder à une liberté surveillée. Pour cela, le juge a ordonné à chacun une caution de 3000 euros. Il y a donc un besoin urgent de donations pour payer leurs cautions, s'élevant en tout à 21 000 euros.
Ce kidnapping de sept camarades a, depuis ce jour, déclenché une multitude de rassemblements et de manifestations dans de nombreuses villes. Des milliers de personnes sont venus en solidarité avec les camarades arrêtés, montrant leur rage et leur haine envers cette nouvelle opération répressive de l'État.
fr.contrainfo.espiv.net / efectopandora.wordpress.com
---
Thursday 12th February : Film screening of the film « Caso Bombas » on anarchists in Chile
Vegan food, liberated price
For the address : blancarde2015 chez riseup.net
*The film is in Spanish but the subtitles are in English
International solidarity with those implicated in Operation Pandora
"For those who struggle, the sense of solidarity intends to dismantle the loneliness of incarceration, waging a battle against forgetting our comrades abducted by states, bringing to light the logic of domination that seeks to condemn them to surrender."
– anarchists of Pandora
A year after the end of the "Caso Bombas" farce, the Spanish and Chilean ministries, judges and cops are working together on a new case, this time on this side of the ocean. Mónica Caballero and Francisco Solar, both ex-suspects in the "Caso Bombas" case, are arrested in Barcelona, suspected of placing an explosive at the Basílica del Pilar in Zaragoza, planning a similar action and belonging to an alleged terrorist organisation.
On December 16th 2014, 15 houses, squats and anarchist social centres in Barcelona, Sabadell, Manresa and Madrid were raided, and eleven anarchist comrades kidnapped by the Spanish State. Four were released shortly after, the other seven on January 30th on conditional bail. The judge additionally ordered that they each pay a bail of 3,000 euros to be released. Donations are therefore urgently needed in order to pay their bail, a total of 21,000 euros.
This kidnapping of eleven comrades set off a multitude of rallies and demonstrations that same day in different cities. Thousands of people came out in solidarity with the arrested comrades, showing rage and hatred towards the State's new repressive operation.
en.contrainfo.espiv.net / efectopandora.wordpress.com
blancarde2015 chez riseup.net
et aussi l'info l'affiche :
http://fr.squat.net/2015/02/06/marseille-solidarite-avec-les-inculpees-de-loperation-pandora/